10 of the Most Common Things You Might Not Consider When Making a Video
Everyone knows that content is king these days. Successful brands and influencers are releasing videos on a near daily basis, but is it really as easy as they make it out to be?
Regardless of the amount of content being produced today, there is still a general lack of understanding around the video production process and all that it entails. It might seem easy to crank out a video every few days—after all, everyone's doing it—but it's not really that simple. There's a right and wrong way to do it.
We like to say there's a difference between a good video and a really good video… And that difference all comes down to understanding the value of preparation.
There are a lot of nuances to consider as you move from the idea phase of a video toward production, many of which are only apparent to those who have experience creating videos. Sometimes, you just don't know what you don't know. Talking to your production company from the beginning and getting prepared well in advance is the best way to ensure your video project is a success.
So with that in mind, here are ten of the most common things we come across with our clients that always have them saying, "I didn't think about that!"
#1: Good Work Takes Time
Videos come in many different forms, lengths, and subject matters. One constant, however, is the time it takes to create a video. Like anything, good work takes time—and video production is no exception.
Your production partner can help walk you through what your shoot requires time-wise. They can explain exactly why a shoot may take longer than you realized. They can steer you away from potential problems and ensure your video comes out right the first time.
We've seen it many, many times. A client will take the initiative in scheduling and setting aside time to capture aspects of a video they need to create before discussing the project with their chosen production company.
Clients have good intentions when they do this, but they often underestimate the amount of time it takes to create a quality video. The result is an unrealistic timeline that frustrates their on-camera talent and crew, resulting in a less-than-optimal finished product.
And we get it! Clients have full schedules with deadlines and many other tasks in addition to a video shoot. They're just trying to be efficient. But far too often this "time-saving" approach can actually sabotage a production, even causing it to take longer than necessary due to time spent fixing mistakes in post-production or, in a worst case scenario, reshoots.
For example, setting aside ten minutes for a "quick" interview probably won't achieve the results you want. Or scheduling an hour long shoot in a location thirty minutes before sunset will likely backfire and result in a video with mismatched lighting and continuity problems.
Remember, any company you hire to shoot your video wants to share in the success of creating something great! Don't make assumptions. Follow their lead to ensure your project is successful.
#2: Everything Has a Cost (and It's Not Always Money)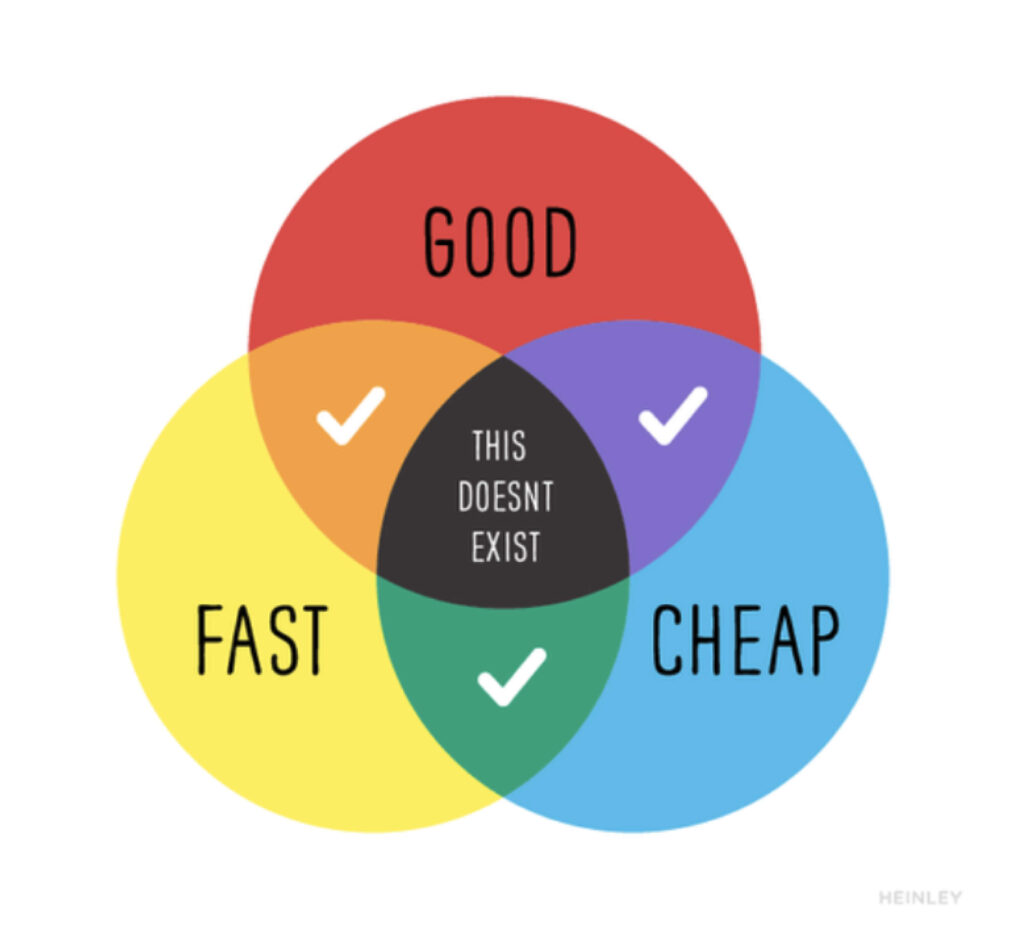 There's a simple equation that applies to many things in life, but is especially relevant to video production: Good, Cheap, or Fast. You can probably see where this is going—you can pick two, but you can't have all three. Good and cheap is slow, fast and good is expensive, and fast and cheap… Well, you get the idea. We're not very interested in fast and cheap, and chances are if you're reading this, neither are you.
This is a critical decision you'll need to make when working with any video production company. Everything has a cost, and it's important to remember that it's not just about the money—time and quality are equally as valuable.
A large crew may seem expensive, but they will be able to finish a video shoot within the scheduled time frame. A much smaller crew might be less expensive, but they would need double or triple the amount of time to achieve the same results and quality as a larger crew. More time needed equals additional costs all around (gear rentals, location fees, etc…). If you're concerned about not having enough money for a project, talk to your production partner about it! They have the proper experience to help find the solution that serves your budget and quality concerns.
Understanding this equation and being honest with your video production company means you'll be able to create a better plan, communicate your priorities more clearly, and ultimately get better results. If you're clear on what you want, your production partner will be clear on how to get it done right.
#3: Location, Location, Location!
If you have a shooting location in mind, you should always mention it to your production partner before you begin the production phase of the project.
Why? Because there are a lot of nuances that go into choosing a location for a video shoot. Oftentimes, clients try to be helpful by finding a location that makes sense to them and fits within their budgets and limitations. But in the end, it causes problems that delay the project and lower the overall quality of the video. They had great intentions, but they just weren't aware of all the factors that go into choosing a shooting location.
Your production company will be able to tell you why a certain location may or may not work. If you do have a location in mind, your production company will be able to point out any potential problems that may occur, offer alternative solutions, and explain why.
Things like sound quality or environmental noise, lighting needs and even weather conditions all play into choosing the right location. When we tell a client that their associate's office may not be the best place to film an interview because it's next to a busy elevator, or directly across the street from a noisy construction site, they usually say… "Oh wow, I never thought of that!"
We're always open to ideas for locations and we want our clients to have the video they've envisioned. But we're also looking to create great videos, and in order to do that, you need a location that checks all the boxes. Sometimes your desired location will work, and sometimes it won't—but you'll never know unless you talk to your production company about it.
#4: Budgets
The biggest overarching mistake we see clients make is they assume how much a shoot might cost without consulting their preferred production partner. We understand most projects come with fixed budgets already allocated to a project, but far too often these budgets can be too small for the client's ask. It's not about a production company trying to get more money out of the client, it's about being able to deliver the client what they had envisioned…being able to meet their expectations and quality demands.
One small example, like hair and makeup, might seem like a needless expense when you're trying to keep costs low, but it's more important than you might think. We've seen it before—without proper hair and makeup, the whole production has to stop and clumsily fix the on-camera talent's hair between every take and the shoot takes twice as long as anticipated. The talent becomes uncomfortable and unfocused leading to a less than desirable performance. That one small cost you thought you'd "saved" inadvertently ended up costing more time, energy, and money due to overtime and and a poor on-camera result.
Oftentimes guessing how much a shoot should cost can end up backfiring. That's why your video production company should be involved at every step of the process. They can find creative solutions for all ranges of budgets and individual constraints.
#5: Cutting Corners Cuts Quality
More often than not, clients have preconceived notions about what a video production company can and cannot do. They figure they need to work within their means, and that requires cutting a few corners to get the video they want.
But the reality is that there are many ways to achieve a goal. Any time you cut corners, you're hurting your video—and no production company wants to create a bad video. Their job is to help you in a creative, pragmatic, and honest way. That means they'll be able to figure out a way to accomplish your goals without cutting corners!
A good production company will always present multiple ways to achieve a goal. From there, you can work with them to create your ideal video without cutting corners. That's their job, after all—you just need to be willing to share and be open with them. Your success is their success!
#6: Establish Delivery Specifications BEFORE You Shoot
Most clients want to use their video for a number of different use-cases and settings. And that's fine! You just need to tell your production partner about all your intentions before they start filming.
Is it going to live on Instagram as a post or a story? Is it going to be played in an arena on the jumbotron? Is it going to be used as an advertisement on TV? Will it live on the homepage of your website?
These are the types of questions you should be asking yourself at the beginning of a project, so your production partner can be extremely clear on how to shoot your video.
Depending on where a video is going, your video production company may need to shoot considering altered framing in-camera, use different sound mixes, or adjust color correction for each video format. Playing a video over iPhone speakers is very different from playing over the speakers at Madison Square Garden. Presenting a video for both YouTube and Instagram might require different aspect ratios and resolutions.
These things need to be planned out in advance, as they affect how the video is shot in the first place. If your production company knows exactly what formats you require for your video, they can plan for that in the production phase. If not, they'll be scrambling to adjust your video to various formats in post production—and that will result in a lot of compromises in quality or additional costs.
#7: The Amount of People You Need to Turn Your Vision Into Reality
It's very common for clients to underestimate just how many people it takes to create a video. It's an easy assumption to make.
Creating a high-quality video involves many different roles and responsibilities, from lighting to sound to makeup to producing and more. To put it simply, there are two directions you can go here. You can have a few people who are average at everything, or the proper number of people who are experts at their specific craft.
People are resources, and just like any other resource, you need to take this into consideration when planning your video. Each video is different, and you'll never truly know how many people are needed (and why) for your specific situation unless you speak to your production company first.
Always remember: your production company is there to make your life easier! Once they're able to determine the real scope of the project, they'll be able to flag any false assumptions you may have and chart a path to success.
#8: Inconsistent Variables
Anyone in film production knows to assume the best while preparing for the worst. Say you want to shoot an interview at someone's office between the hours of 4:30 and 6pm. That may seem like a quick and convenient option, but there are a lot of variables at play.
How's the lighting environment? Should any fluorescent bulbs be changed out or gelled? Are there large office windows that let in unwanted natural light? Will the sun go down during the shoot and create continuity issues? Moving the shoot up by just a few hours or changing locations could solve nearly all of those problems—but you'll never know that unless you consult your production company first.
Similarly, an outdoor shoot is at the mercy of rain, winds, and other unexpected factors. It happens all the time—it starts raining and your entire production grinds to a halt. And, of course, there's no budget for a reshoot.
Your video production company will be able to suggest ways to minimize those variables and ensure your video shoot is successful the first time around—but they need to know your thoughts ahead of time. A lot of video production comes down to putting out fires before they happen, and this is a perfect example.
Long story short: be mindful of fluctuating variables and don't commit too quickly to tight timeframes until you've consulted your video production company.
#9: You Get What You Pay For
No matter what industry you're in, you get what you pay for. It never fails. If you buy a cheap car, it will have flaws. The more money you spend, the more value you'll get and the less compromises you'll be forced to make.
If you're stretching your budget by selecting the lowest-cost options in all areas, you might want to pause and rethink. An experienced production company will ask you to be transparent in collaborating from the get-go to help identify the best way to approach your needs. They'll also be able to provide a fresh perspective on what will work, how, and most importantly, why. They'll say, "Let's put everything out on the table, sift through together, and sort it all out."
With their help, you'll discover different solutions and what you viewed as obstacles may be recast and revealed as opportunities in disguise. Clients often assume what they can and can't afford, or cut out what they don't need in an attempt to be resourceful, efficient, and helpful. In reality, those assumptions can create unnecessary headaches for you and your production company. In some cases, it can even result in higher total costs for the project.
If you try to keep costs down by cutting things you don't think are necessary, something will get lost. A simple conversation with your production partner will likely result in an easy fix ahead of time.
#10: The Objective
It's not always about accommodating a lack of resources or slimming down your budget. Sometimes it's about properly allocating abundant resources so that you get more bang for your buck, walking away with much more than you thought you could.
But to do that, providing a number isn't enough. You should be clear on exactly what you'd like to get out of your video, the items on your production wishlist, or the target metrics you need to hit. These allow your production partner to help you in the best way possible.
In the past, clients have given us an idea and a high budget. It's only after they tell us their objective that we realize they could use an entirely different approach with lower costs and higher returns.
Who are your customers? Who are you marketing toward? What have you done in the past, and did it work or not? Tell your production partner everything!
Once they understand your objective they can adjust the project accordingly. They might say, "Hey, now that I understand your objective, I think you'd be better off doing it this way—and we could make two videos instead of one while staying within your budget."
With an open collaboration, we can redefine the project to open up more time for the most impactful aspects of your video and give suggestions for ways to maximize your return.
Ready to Get Started?
If you're ready to work with a video production company that will think of all the things you may not have considered for your next project, we've got you covered. Reach out to book a free consultation and receive your Quick Quote! We'd love to have a chat.